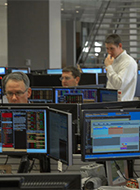 Baltimore Company Stocks Are Mixed Amid Market Turmoil in January
January 29, 2016 | By Carrie Wells
U.S. stock markets swooned in the new year amid fears that an economic slowdown in China would spill over into domestic recession and as oil prices plummeted.
Yet for some of the Baltimore region's largest public companies, the markets were more mixed for the month of January.
Most of the region's publicly traded companies saw their stock prices under pressure amid the market turbulence that seemed at times disconnected from what was happening at the companies themselves and in the American economy.
That was nowhere more clear than with Under Armour, whose shares were off 15 percent so far in 2016 until it reported earnings and sales on Thursday that beat widespread downbeat expectations. The stock soared 22.5 percent Thursday, more than making up the lost ground.
It climbed again amid Friday's rally to end the month at $85.43 a share, up 5.6 percent, the best gain among Baltimore-based public companies. The athletic apparel maker's stock still remains well below its all-time high of over $104 a share hit in September.
Shares in T. Rowe Price Group and McCormick & Co. also rallied after they announced positive earnings. After being off as much as 9 percent in mid-January, shares in T. Rowe, a Baltimore-based mutual fund manager, are only off 1.7 percent now, while the shares in McCormick, the Sparks-based spice maker, also swung from negative territory to a 3 percent gain after its earnings last week topped analyst expectations.
But not everyone enjoyed the bounce at the end of the month.
W.R. Grace, the chemicals company based in Columbia that emerged from a long asbestos-related bankruptcy two years ago, saw its stock plunge more than 19 percent amid the falling oil prices and as the company prepares to split into two on Feb 3.
Meanwhile, many investors and analysts expect the market's volatility to continue.
Down 9 percent for the year as of Jan. 20, the S&P 500 index has gyrated all month. Friday's strong rally helped it to end the month down just 5.2 percent. It's still the index's worst month since last August when it lost 6.2 percent.
"What's happened year to date is like taking a basketball and throwing it at the floor," said Niall H. O'Malley, the managing director of Blue Point Investment Management in Towson. "It's very tempting to come back into the market and say here's an opportunity to buy, but you have to remember there's a lot of energy and that basketball is going to bounce more than once."
Companies like Under Armour may benefit from the current economy, O'Malley said, as improving consumer confidence leads them to make purchases of discretionary items such as workout gear.
"People are feeling better, kids are getting jobs or better potential job opportunities out of the universities," he said. "It has a direct impact on confidence."
Loyola University Maryland professor Karyl Leggio cautioned that "it's really hard to either predict how [the companies are] going to do going forward or make major conclusions from one month's activity."
Baltimore-area companies generally followed the ups and downs of the stock market "except when they had events," Leggio noted.
In the cases of Under Armour, money manager Legg Mason, McCormick and T. Rowe Price, the "events" were earnings reports. In the case of Sinclair Broadcast Group, last week's announcement of its $350 million acquisition of the Tennis Channel boosted its stock price into positive territory for the month.
Leggio said Grace's falling stock could be due to the announcement that it will start paying a quarterly dividend, which she said usually indicates the company's stock will grow more slowly, and falling oil prices, which affect some of its chemicals manufacturing.
Yuval D. Bar-Or, an assistant professor at the Johns Hopkins Carey Business School, said that after most companies finish releasing their earnings reports in the next couple of weeks, the market should stabilize — unless there's more global uncertainty over China or a situation in another country.
But investors should keep things in perspective, he said.
"Compared to where we were six to seven years ago, there's no comparison," Bar-Or said. "Against that backdrop it seems to me that concerns are overblown. It's just a part of the volatility that comes along once in a while."
Mixed market for Baltimore stocks
The year-to-date performance of other Baltimore-based company's stocks
Omega Healthcare Investors -9.4%
Colfax-5.2%
Ciena-13.9%
Corporate Offices Property Trust +2.2%
Hannon Armstrong Sustainable Infrastructure Capital -5%
Medifast-4.5%
Osiris Therapeutics-31%
KEYW-21.9%
Tessco-15.2%
Howard Bancorp+0.2%
Severn Bancorp-3.8%
Bay Bancorp-6.9%
Glen Burnie Bancorp -7.4%
Cerecor-6.2%
Universal Security Instruments-8.9%
Visit Link
Back to Previous
@BluePointInvest Twitter Commentary